2009-12-02
Chicago police reprimand two officers for conduct during G-20
By John Manganaro
Police officers who allegedly forced a Pitt student to pose on his knees during a G-20 Summit protest received something besides a photograph to commemorate the tempestuous global event — a formal reprimand from their commanding officers.
According to Chicago Police Department spokesman Roderick Drew, the Department issued two reprimands on Nov. 25 following an investigation into a video that appeared online.
In the video, Pitt student Kyle Kramer is led before about 15 police officers in riot gear on Forbes Avenue near Hemingway's Cafe. Kramer kneels while one officer snaps a picture.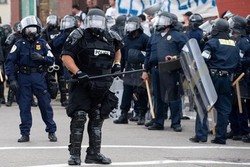 "The Internal Affairs Division conducted an investigation into the actions of the Chicago Police Department members during the G-20 Summit in Pittsburgh," Drew told The Pitt News in an e-mail on Monday. "The investigation was completed on Nov. 19, 2009, and two Department members were disciplined as a result."
Because of contractual requirements, Drew declined to discuss specific details of the investigation or say the officers' names.
Kramer said he felt the results of the department's investigation were vague.
"I'm glad that they reprimanded them, but I have no idea what that means or what the effects are going to be," Kramer said.
In an Associated Press interview, Drew told reporters that reprimands were issued to a Department chief, as well as a commander.
Source: http://www.pittnews.com/article/2009/12/01/chicago-police-reprimand-two-officers-conduct-during-g-20