2009-12-14
ACLU Sues Pittsburgh For Harassment, Intimidation
Civil Rights Group Says City Suppressed Free Speech During G-20
PITTSBURGH — The American Civil Liberties Union has announced it's suing the City of Pittsburgh over official's treatment of protesters gathered for September's G-20 economic summit.
Protesters and police clashed during the event, which brought world financial leaders to the city's downtown for meetings about issues affecting the global economy.
According to a news release from the ACLU, the group is suing the city and police officers for what they say were efforts to thwart peaceful protest.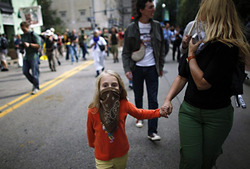 The suit says that city officials "deliberately adopted a strategy to harass, intimidate, discourage and ultimately prevent Three Rivers Climate Convergence and the Seeds of Peace Collective from exercising their constitutionally protected rights to free speech and assembly during the International Coal Conference and the G-20 Summit."
The lawsuit claims delays and denials for city permits, as well as the confiscation of some of the groups' materials, "frustrated" efforts for protest.
In an e-mail Joanna Doven, Pittsburgh Mayor Luke Ravenstahl's spokeswoman, said the city has "no comment on matters of litigation."
Source: http://www.thepittsburghchannel.com/news/21962373/detail.html