2010-11-23
David Japenga Found Guilty Of Breaking Windows In Oakland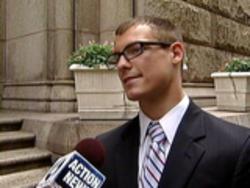 David Japenga got six to 18 months from Allegheny County Judge Ed Borkowski on Tuesday morning, plus five years of probation. The 21-year-old man was also ordered to pay $15,000 restitution.
Many people were arrested during the global economic summit in September 2009, but police said Japenga caused the most damage, breaking about 20 windows and doors in Oakland and causing damage at the local Citizens Bank branch.
His arrest was caught on cell phone video and posted on YouTube.
Source: http://www.thepittsburghchannel.com/allegheny/25891887/detail.html