2009-11-02
Case against alleged G-20 protest coordinators dropped
Allegheny County prosecutors withdrew criminal charges today against two New York men accused of using cell phones and the Internet messaging service Twitter to direct the movement of protestors during the G-20 Summit in Pittsburgh.
Police arrested Elliot M. Madison, 41, and Michael Wallschlaeger, 46, both of Jackson Heights, N.Y., after they found them Sept. 24 in a Kennedy hotel room full of computers, police scanners and Pittsburgh-area maps, according to a state police criminal complaint.
Prosecutors withdrew the charges after an attorney for the men asked Common Pleas Judge David R. Cashman to unseal police affidavits that backed search warrants used in their case. Cashman previously sealed the warrants.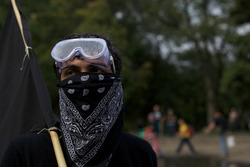 "There was no crime here in Pennsylvania. The alleged activity was within the First Amendment," said Claudia Davidson, an attorney representing both men. "My instinct tells me there's (another) investigation going on. I think the DA's Office made that clear today."
Bob Nardoza, a spokesman for the U.S. Attorney's Office for the Eastern District of New York, confirmed the case is ongoing.
"It's an active investigation and beyond that and what's in the public filings I can't say more," Nardoza said.
Mike Manko, a spokesman for District Attorney Stephen A. Zappala Jr. released a statement saying the charges were withdrawn after consulting with "other law enforcement agencies."
"There appears to be sufficient evidence to suggest that certain acts that occurred during the G-20 Summit were not isolated incidents confined to Allegheny County but instead may have been related to more expansive activities that went beyond the Pittsburgh G-20 in both time and substance," according to the statement.
"That being the case, a determination was made that until further investigative activities by law enforcement agencies can be completed, it would be more prudent to have the current charges withdrawn rather than prosecuted at this time."
State police obtained a warrant to search the second-floor room at the Carefree Inn on Kisow Drive based on a tip they received about criminal activity related to the G-20 protests.
Wallschlaeger and Madison wore headphones and microphones as they sat in front of computers they used to send Twitter messages to protesters in Pittsburgh to help them move about the city "and to inform the protesters and groups of the movements and actions of law enforcement," the state police complaint states.
Police arrested 191 protesters of an estimated 5,000 people who participated in marches and demonstrations in Oakland, Lawrenceville, the Strip District and Downtown during the summit Sept. 24 and 25.
Madison and Wallschlaeger had faced charges of hindering apprehension or prosecution, criminal use of a communication facility and possessing instruments of crime.
Source: http://www.pittsburghlive.com/x/pittsburghtrib/news/breaking/s_651135.html