2010-05-18
ACLU plans to sue city over arrests during G-20 summit
By Moriah Balingit
The American Civil Liberties Union announced Tuesday that it is preparing a suit against the city on behalf of some of those arrested during the "Oakland sweeps," the night following the close of the G-20 summit in which riot police descended on hundreds of students, protesters and passers-by who had assembled in Schenley Plaza.
The announcement came during an Thomas Merton Center awards ceremony that recognized state ACLU legal director Witold "Vic" Walczak and seven other attorneys for their efforts to help protesters work out legal issues before, during and after the G-20.
All were given the New Person Award at a ceremony at the East Liberty Presbyterian Church Tuesday night.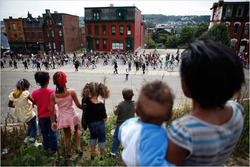 Rosemary McMullen, spokeswoman for the center, said the attorney's work was essential in protecting the First Amendment in Pittsburgh, and may have deterred some civil rights violations by police.
Mr. Walczak gave few details about the suit, calling it a work in progress, but said he planned to focus on those arrested in Oakland during the night of Sept. 25, when riot police clashed with hundreds of people gathered in Oakland, deploying tear gas and arresting 110 of them.
Mr. Walczak said he plans to argue the police made "false arrests," during the incident and that they violated the First Amendment rights of those arrested.
"We had a committed group of protesters committed to expressing dissent in a peaceful and respective way, but they were prevented from doing so," Mr. Walczak said.
Peter Shell, co-chair of the Thomas Merton Center's antiwar committee who was honored Tuesday night as a member of the G-20 Ad Hoc Civil Liberties Working Group, was among those arrested near the Cathedral of Learning that night. He said that he would be one of the plaintiffs.
The suit will be filed before late September, the one-year anniversary of the G-20 summit, Mr. Walczak said.
The Thomas Merton Center also gave the G-20 Leadership Award to the Pittsburgh Principles Committee, a group that brought together activist groups in Pittsburgh to formulate a set of agreed-upon rules and protest tactics; the Civilian Police Review Board; and the G-20 Ad Hoc Civil Liberties Working Group, which served as a liaison between protesters and elected officials.
Source: http://www.post-gazette.com/pg/10139/1059137-84.stm