2009-10-02
Cops tame G20 rioters Protesters vent anger at summit
Police fired tear gas to disperse a group of masked anarchist protesters attempting to march on the venue of the Pittsburgh G20 summit Thursday.
Riot police intervened after a 1,000-strong crowd, some of them black-clad hardliners wearing goggles and brandishing anti-capitalist banners, set off on a three-kilometre trek toward the conference venue.
As the group left the city park where they had gathered in defiance of a ban on non-authorized rallies, police broadcast a pre-recorded announcement in English and Spanish declaring their protest an "unlawful assembly."
"If you do not disperse you may be subject to arrest or other police action," the message warned. Some protesters appeared to heed the warning, but most pushed on, despite signs that police were attempting to surround them.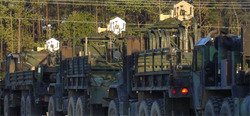 Shortly afterward, riot officers blocked their path and fired tear gas grenades.
"They pushed us into a side street in a residential area and then shot tear gas at us. They shot like three cannisters," demonstrator Ross McCoy told AFP.
Earlier, a group of 80 students waved red and black anarchist flags and black banners had set off from the city campus of the University of Pittsburgh to join hundreds more protesters in Arsenal Park.
"I'm an anarchist-communist who's here to show the G20 that they are not the only people whose lives they're affecting," said Martin Droll, a 20-year-old office worker from Philadelphia.
A few blocks from the planned starting point of the march, 200 Tibetan activists waving Tibetan and American flags staged a separate peaceful demonstration.
"We want to take the opportunity of Chinese President Hu Jintao arriving here today for the G20 to ask world leaders to press him to improve human rights in Tibet," Nga Wang Tasha, president of the Original Tibetan Youth Congress of New York and New Jersey, told AFP.
"We also want to ask President Barack Obama, who made change a slogan of his campaign, to press for a change in the situation in Tibet."
Hardline demonstrators had vowed to march on the summit venue at the David Lawrence Convention Center to vent their anger at the two-day meeting of the so-called Group of 20 leading economies opening Thursday evening.
Some downtown schools and businesses closed in expectation of a showdown.
Source: http://www.canada.com/news/Cops+tame+rioters/2031549/story.html