2009-07-06
Against the master's G8 on July The 10 th Aquila
WITH THE POPULATION OF ABRUZZO!

TOGETHER AGAINST THE MASTER'S G8 ON JULY THE 10TH!
More than two months have gone by since the devastating earthquake in Abruzzo and less than a week divides us from the conclusive meeting of the G8 in L'Aquila but the situation of the thousands of evacuees is not getting better. The people who lost everything with the quake have to bear a very hard repression and controls and forbiddances in the camps are always more: leafleting ban, limits to the circulation among the various camps, the institution of real "red zones" and of a curfew at 8 pm which prohibits to get out and enter your own tent. And the government obstructs the circulation of information and news in order to pursue its own interest.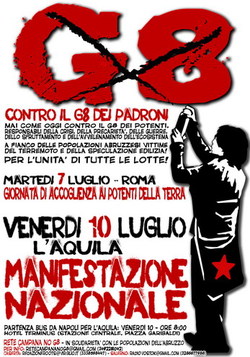 All this is done to prevent the earthquake victims from coordinating and contesting the vile government measures for the false reconstruction, like they already did in Rome on June the 16th and in L'Aquila in the following days. Besides this, to the insult caused by the unfortunate building trades speculations the electoral injury directed by Berlusconi's government has to be added: they decided to move the G8 summit from Sardinia to L'Aquila making use of people's sorrow.
In fact this choice has been taken to anaesthetize rage and prevent mobilization against the "powerful men of the world" 's policy. It's evident that this is an attempt to criminalize the movement's dissent which have always opposed organisms like the G8. An organism that tries to resolve the economic crisis through policies which make the costs weigh on society's poorer classes. The answers that organisms like the G8 give to the crisis end up in economic manoeuvres which give benefits to the masters, in deals against workers, precarious workers and students, in an always more heavy repressive legislation and in wars against the oppressed people of the south of the world who are already victims of exploitation and hunger: a condition that the "8 masters of the world" pursue with their policy with other supranational organisms (WTO,IMF, NATO etc.).
These men- slaves of the multinational companies- are the true responsible for the crisis, for the shutdown of many plants and for the million of unemployed people in the world. They spend millions of Euros for military investments and to save banks and enterprises and they don' t grant an income to those who don't have a job.
In front of this the political movements know whose side to be on:
With the victims of the earthquake and of the building trades speculations!
With the proletarians who bear the master's crisis!
Against restrictive policies and repression!
Against the master's G8 and for the unity of all struggles!
Let's make the government and the world's masters hear the voice of the earthquake victims and of the movements in L'Aquila, on July the 10th.
Rete Campana No G8 – in solidarietà con le popolazioni dell'Abruzzo
retecampananog8@gmail.com
Source: http://www.indymedia.org/de/2009/07/926357.shtml