2009-07-03
Independence Day in Vicenza
Saturday, July 4, 2009

Vicenza, Italy
On July 4th, just days before Obama arrives in Italy for the G8 summit, Vicenza will celebrate its own "Independence Day," that is, independence from the U.S. military! After three years of determined opposition to the construction of a new base in their city, the people of Vicenza show no signs of letting up. They have called for a national demonstration with a protest march that will literally surround the site of the new base.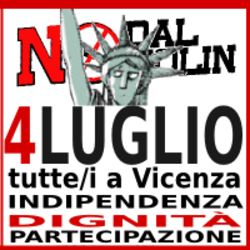 USC4P&J has already sent in our endorsement, but the best way to show our support is obviously being there! Please let us know if you plan to participate and we can decide together the best way to get there: info@peaceandjustice.it
Troops from Vicenza were the first to parachute into Iraq, have been deployed to Afghanistan and the city is now home to the command for ground troops for AFRICOM, the new U.S. Africa Command (because no African country would have them!) Everything we've been protesting against departs from Vicenza. Let's support the people trying to stop it!
On the No Dal Molin web site, you can read a translation of the appeal for the July 4th national demonstration, see a list of endorsing groups and a map of the march route.
If you would like to record a video endorsement in support of the protest (English is fine!), please upload the video to youtube and send the link to comunicazione@nodalmolin.it Videos will be posted on the No Dal Molin web site.
See a brief history of the No Dal Molin movement in English, including a timeline.
See you in Vicenza. Viva l'indipendenza!
Source: http://www.peaceandjustice.it/vicenza-july4-2009.php