2010-02-01
Completion of criminal investigations against those who protested in Rome the G8 in July 2009.
Twenty activists charged with paradoxical accusations, to strike once more the social movements
In recent days preliminary investigations against those who protested in Rome in July 2009 the G8 crisis and Berlusconi have been closed by prosecutors.There are now officially 20 young activists from Rome,Naples and internationals, reported with charges such as aggravated resistance to arrest,gbh,damaging followed by fire.Paradoxical accusations that sound like a joke, since the only episode disputed: the "v strategy" demo against the summit, July 7 2009,in the Testaccio-Piramide area.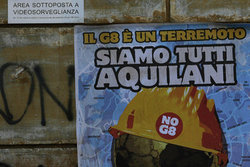 On that occasion, a demo that started from a occupation by university students and movements, was cold charged and for over a kilometre, with a whole quadrant of Rome fully armored and militarized, with a real manhunt, combing inside buildings and an already abnormal repressive balance of 30 detained, of whom 8 were arrested and four submitted for many months (until December/January 2009) to heavy precautionary measures. It's from that police raid that after last summer a wave of repression against social movements in the capital has unleashed, from violent interventions against the fighting initiatives for the right to housing as against student and anti-racist demos, to the evictions of squats, roma camps, old and new self-managed social spaces. Something that happens in the rest of the country, proving that striking who activated publicly against the G8 of the crisis, they wanted and they want to hit who is active every day in the territories, universities, in jobs for new rights, for freedom, for self-determination …
Anyone who contravenes or rebels or contests is affected by the repressive axe, more so the worse is the economic and social crisis, just as who is responsible for the crisis and together manager considers himself instead free in words and deeds of every complaint, every process, every opinion. There are many thoughts and words that we could and we should spend to analyze the current social, economic, law enforcement in Italy and Europe, especially in the light of the last climate summit COP15 in Copenhagen and many are the projects active and in activation around the issue of movement freedom for all.
But one thing is certain. We who support the appeal of the triple V – Viola, Vengeance, Victory -, we see today that that cry has become even more widespread, extending to those who raise their heads against the abuses of power with which the Government of the crisis proceeds to overwhelm our lives, our rights, our freedoms. And who wanted to intimidate us sees us today alongside those who fight against the precariousness like the workers of Eutelia, Ispra, and the precarious in schools and universities, for a right to housing for all, for a income right beyond begging and actual public lotteries, for migrants rights and the construction of the strike on 1 March 2010.
In time of the agitated crisis and in the italian season of power abuses in the name of "security", there really is a mountain of reasons to still be, more and more, persistently in motion …
See http://www.indipendenti.eu/blog/?p=17203
Source: email