2009-10-06
Turkish police battle IMF protesters in Istanbul Protesters run away from tear gas as they clash with Turkish riot police in central Istanbul
Turkish police used water cannon, tear gas and pepper spray today to disperse hundreds of demonstrators protesting against the annual meetings of the International Monetary Fund and World Bank.
Masked protesters shattered the windows of a McDonald's restaurant and banks and damaged vehicles as they ran into the streets behind Istanbul's landmark Taksim Square, which is less than half a mile from the complex where the financiers are meeting.
Thousands of police wearing gas masks and protective gear erected barriers around the venue and detained dozens of protesters – mostly members of small leftwing parties or labour unions. CNN-Turk television said that some foreign protesters were also involved.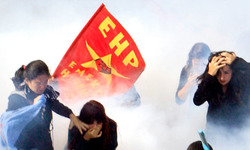 Clouds of tear gas filled the air above Taksim Square while firefighters battled a blaze apparently set by protesters. Passers-by and reporters were also affected by the tear gas. Police helicopters hovered above the crowds.
Along the famous tourist route of Istiklal Street, shop owners pulled down their shutters and customers hid inside, deserting a once-busy thoroughfare.
Security has been tight at the International Congress Centre since the meetings began last week with armed police and large groups of security guards highly visible, but the policing was stepped up dramatically today even before any trouble flared.
At the main entrance to Taksim Square, large contingents of blue-uniformed police carrying gas masks, riot shields and weapons gathered since early this morning. Many wore body armour.
Before the violence flared three female protesters had managed to get within a few yards of the main entrance, mingling with the thousands of bankers and officials entering the complex.
As soon as they began to chant in protest, they were surrounded by both uniformed and plain-clothed officers who grabbed them, clamped hands to their mouths and frogmarched them to a police van with blacked-out windows.
At the back entrance to the congress centre – a mass of new buildings and roadways spread over a wide hillside area and surrounded by high temporary fencing – four dozen uniformed police marched in, many wearing helmets and carrying riot shields. A helicopter hovered overhead.
Delegates walking into the conference have to pass through two airport-style metal detector doorways and have their bags checked. Similar arrangements are in place in the vestibules of the main hotels where delegates and bankers are staying.
Turkey and the International Monetary Fund are engaged in slow-moving talks about a new loan deal that could boost investor confidence, but Turkey has been reluctant to cut spending and implement austerity measures.
Last week, a student journalist hurled a shoe at Dominique Strauss-Kahn as the IMF director answered questions at a university in Istanbul. The shoe missed its target.
Source: http://www.timesonline.co.uk/tol/news/world/europe/article6863015.ece