2008-04-02
German, Romanian, Czech Nationals Among Anti-NATO Protesters Detained In Bucharest
The anti-NATO protesters detained for questioning in Bucharest on Wednesday were nationals of Germany, Romania, Moldova, Portugal, Spain and Poland, Bucharest police chief Marian Tutilescu said in a press conference.
He said the bulk of the 54 protesters were Romanian and German nationals – 26 and 22 citizens, respectively.
The 17 women in the group were allowed to leave shortly after they were brought in for questioning at a police precinct in Bucharest, Tutilescu mentioned.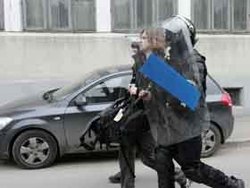 Several gendarmerie squads moved in a local plant on Wednesday afternoon and evacuated some 54 anti-NATO protesters who leased a production hall for the NATO summit, after several officers reported an incident between protesters and two officials with the plant.
The protesters were taken to several police precincts for questioning.
Save the assailants of the plant's general manager and of a security guard, all the protesters will be released once the identification procedure is over, Tutilescu said.
"The other persons will be released immediately, with no other contraventions considered or any of their materials being confiscated, provided they have no nationalist or illegal characteristics," Tutilescu said.
The chief of police said the intervention at the plant was conducted exclusively by gendarmes and that he cannot give any details about the actual operation.
Asked about one of the women in the group who was taken to a hospital, Tutilescu said the woman has twisted her ankle while getting in a gendarmerie car.
Source: www.mediafax.ro