2010-11-09
Seoul braces for G20 summit
Steven Borowiec
During Toronto's G20 summit in June, images of a generally peaceful city in turmoil were splashed all over the world. A similar scenario could be played out Thursday as Seoul hosts the next round of meetings.
There is a history in South Korea of making gains through the hosting of international events. The 1988 Olympics and the 2002 World Cup both marked gradients on the country's development path. Government officials hope that the G20 summit will mark South Korea's passage to fully developed country.
"In many ways, Korea is a somewhat rare political and economic success story," said Lee Chan-buom of the Presidential Council on Nation Branding. "Fifty or 60 years ago, Korea was one of the poorest countries in the world. Nowadays, Korea is an industrialized, fairly developed country."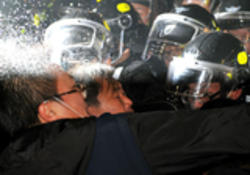 With this opportunity comes apprehension about making a good impression.
"I think the advantage of following Toronto is that there are obviously lessons to be learned from what happened there," said G20 spokesperson Sohn Jie-ae.
The Canadian government has been criticized for its decision to host the summit in an urban area and for its botched handling of security. No demonstrations will be allowed on site in Seoul. A special law that gives security forces special powers will be in effect within 2 km of the main venue. Moveable security fences will be put up around the meeting areas. The fences will be 2.2 metres high and stretch for 1.6 km.
The South Korean government has organized a security task force that may use water cannons, armored vehicles, robots, roadblocks and helicopters to pacify demonstrations or handle terror attacks.
The summit will be held at Coex, a massive complex in Seoul's Gangnam area, the city's most prestigious district, full of gleaming office towers and upscale condos. Coex is made up of a huge convention centre, hotel, casino and the largest underground shopping centre in Asia (which will remain open during the summit).
It usually hosts conventions for South Korea's business elite, not anti-globalization protests. Activists expect a lower number of protestors at the Seoul summit due to the city's isolation; with water on three sides and North Korea on the fourth, South Korea is effectively an island.
Even then, about 20,000 people rallied at a large plaza near Seoul City Hall on Sunday. The rally was mostly peaceful, but riot police fired pepper spray at some protestors at the front of the crowd, forcing them back. Four people were arrested.
Ahead of the summit, the South Korean government is seeking to cleanse its capital of elements that may give the visiting foreign leaders and journalists a less than stellar impression of Seoul.
Organizations representing the city's population of migrant workers have reported an increase in police raids and deportations. Visitors to Seoul Central Mosque have cited visits from police asking about potential links to terrorist groups. There has been a spike in deportations of undocumented workers.
Homeless people and street vendors in the area near the summit have been told to vacate in advance of the meetings. The city of Seoul sent an official document to taxi companies instructing drivers to wash their hair and appear clean between October and the end of November. Failure to comply with the cleanliness standards will result in a fine of 70,000 Korean won ($63 Cdn).
Police in Toronto seemed unaccustomed to dealing with protests, but handling large, angry crowds has long been an integral part of policing in Seoul. Strong-arm tactics are a little less surprising here than they are in Canadian cities. This country's citizens have a long history of taking to the street to demand change from government, and being met with force.
"Korea is not new to demonstrations, and therefore we're not new to controlling demonstrations," Sohn said. "We don't want demonstrations, but having demonstrations is something that we'll just take care of."
Many Canadians expressed shock at the way rights were suspended during the G20. To many observers in South Korea, recent years have seen a kind of return to the repressive tactics of the country's past.
"All protests need to be registered in advance now, the number of people, their names and ID numbers, otherwise the protests will be considered illegal. They have raised the fines for illegal protests to at least 1,000,000 Korean won ($900 Cdn)," said Catherine Hee-jin Kim, the Korean-Canadian director of Amnesty International South Korea.
"The students then wouldn't go out anymore, they wouldn't care about getting beaten up, but they have to care about money."
Source: http://www.thestar.com/news/world/article/888120--seoul-braces-for-g20-summit