2006-12-22
Artikelsammlung zu den Kosten G8-Gipfel, speziell Gleneagles 2005
[zusammengestellt von gipfelsoli; www.gipfelsoli.org]
- Cost of Hosting the G8 Summit:
- G8 blamed for slump at tourist attractions
- Companies lose millions as G8 benefits fail to show
- Edinburgh council wants £3m for G8 costs
- Swinney makes G8 cost comparison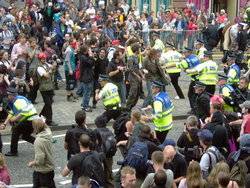 ---
Cost of Hosting the G8 Summit:
Compiled by: Laura Sunderland
1981 (Ottawa): $5.5 million
1982 (Versailles): $14.5 million
1988 (Toronto): $20 million to $19.3 million
1995 (Halifax): $28 million
2000 (Okinawa): 800 million yen $750 million
2001 (Genoa): $225 million
2002 (Kananaskis): $300 million
Halifax Summit Office News Release. "Halifax Summit Budget to be 28 million." http://www.chebucto.ns.ca/Current/HalifaxSummitG7/Release/Budget01.html
Halifax Summit Office News Release. "Halifax Summit Budget to be 28 million." http://www.chebucto.ns.ca/Current/HalifaxSummitG7/Release/Budget01.html
Okinawa Summit Religion v. Politics. http://www.jesuit.ie/ijnd/Okinawa%20summit.html
Collis, Dave. "Global Debt – A History of Oppression," from Jubilee 2000, from a talk given at the Global Action Conference at the University of Melbourne, July 19 2000
Reid, Mark. "Calgary Herald." May 6 2002 http://www.geocities.com/ericsquire/articles/calher050602e.htm
Trickney, Mike. "Expensive Alberta Conference Makes Mockery of African Aid: Critics." Calgary Herald, May 3, 2002 http://www.geocities.com/ericsquire/articles/oc050302.htm.
---
G8 blamed for slump at tourist attractions
BRIAN FERGUSON CITY COUNCIL REPORTER
THE full impact of the G8 summit on the tourism industry was revealed today as figures showed visitor attractions across Edinburgh suffered a major slump at the height of the peak summer season.
Visitor numbers fell by more than a quarter at some leading venues as thousands steered clear of the Capital because of the high-profile protests and events taking place in July.
A wide-ranging survey of Scotland's leading attractions covering the whole of the month reveals the slump – despite predictions that staging the summit at Gleneagles would provide a massive spin-off for the industry.
Edinburgh Castle, the Museum of Scotland, the Royal Museum, the City Art Centre, the National Gallery of Modern Art and the National Portrait Gallery were all hit by the G8 effect.
Other attractions such as the Scott Monument, the Museum of Edinburgh, the Museum of Childhood, the Writers' Museum, Craigmillar Castle and the Georgian House also lost out.
Only a handful of out-of-town attractions felt any kind of benefit this July compared to a year ago, with the two major beneficiaries – the Museum of Flight and Rosslyn Chapel – cashing in on the opening to the public of Concorde and the impact of the Da Vinci Code novel respectively.
However, tourism and city leaders today insisted the industry would feel the benefits of the G8 summit in the long term. A report, commissioned by the Scottish Executive, on the overall economic impact of the G8 is due out by the end of the year.
Today's report, compiled by the Association of Scottish Visitor Attractions for VisitScotland, said most attractions in Edinburgh recorded a decrease in visitor numbers, which they attributed mainly to rallies and protests.
In Edinburgh city centre, only the National Gallery of Scotland on The Mound recorded any significant increase in visitors, up almost 24 per cent. Much of this increase is thought to be due to the opening of the Weston Link, including a new bar and restaurant.
Among the worst hit in Edinburgh were the Museum of Childhood and the Museum of Edinburgh, both on the Royal Mile, which recorded drops of 28 per cent and 22 per cent respectively. Visitor numbers at The People's Story, also on the Royal Mile, saw a 34.5 per cent slump.
Edinburgh Castle's visitor numbers were down nearly 13 per cent for July, Craigmillar Castle's visitor figures were down 7.6 per cent, the two national museums were down almost two per cent, and visitor numbers at the City Art Centre were down 4.8 per cent.
The National Portrait Gallery was 14 per cent down on last year, while the National Gallery of Modern Art, which is well outside the city centre, was down 2.5 per cent for July.
A spokesman for VisitScotland said: "It was anticipated that some attractions, in the short term, would experience a downturn due to G8, chiefly due to elements such as increased security, disruptions and protests, as well as the perceived fear of violent disturbances, all which may have deterred people from getting out and about as they ordinarily would have at that time of year.
"However, in the long term, and with a wider economic impact survey imminent, we fully expect G8 to have generated an overall positive outcome for Scotland."
Newhaven Heritage Centre bucked the trend with a 50 per cent increase in visitors, while figures at Lauriston Castle were up 16.4 per cent. Rosslyn Chapel's figures were up 59 per cent, while the Museum of Flight was up more than 17 per cent.
Although they did not take part in the survey, the Our Dynamic Earth attraction at Holyrood suffered a 13 per cent slump in visitors. However, two other leading Edinburgh attractions which did not take part – Camera Obscura and the Scotch Whisky Heritage Centre – said they had actually recorded increases in visitor numbers this July.
Councillor Ricky Henderson, Edinburgh's sport, culture and leisure leader, said: "The museums particularly affected were on the Royal Mile, the focal point for tourists in the city."
Andrew Johnston, head of the Capital Group, which represents visitor attractions, said: "Our view is that the G8 was a great opportunity. Although there was some short-term pain, there will be long-term gain."
Web links
G8 Gleneagles 2005
http://www.g8.gov.uk/
G8 Alternatives
http://www.g8alternatives.org.uk/
Make Poverty History
http://www.makepovertyhistory.org/

UNICEF

C8 Children's Forum
http://www.unicef.org.uk/c8/
Indymedia – G8
http://www.indymedia.org.uk/en/actions/2005/g8/
Dissent Network
http://www.dissent.org.uk/
Related topics
[http://news.scotsman.com/topics.cfm?tid=449&id=2038212005 – 5. Oktober 2005]
---
Companies lose millions as G8 benefits fail to show
MIKE J WILSON
EXPECTED benefits from the G8 summit at Gleneagles failed to materialise, partly because tourists thought Scotland was effectively "closed" as it tackled violent demonstrations.
While tourism and leisure facilities witnessed a tail-off in trade, numerous contracts were also placed outwith Scotland, leaving contractors and service providers empty-handed.
The then Deputy First Minister Jim Wallace said on announcing Gleneagles as the G8 venue in June 2004: "We and the enterprise bodies will be working very closely with all the business organisations to secure the maximum economic benefits for Scotland from the summit."
But Scotland appears to have had little benefit, with one estimate suggesting that lost business together with the added costs of staging the summit could amount to £100m.
Philip Riddle, chief executive of VisitScotland, admitted: "There was a definite dip in visitor numbers on the seasonal norm around the time of the G8, most likely because visitors thought Scotland was 'closed,' and concerns about images of demonstrations and violence in Scotland.
"However, VisitScotland has monitored media coverage around the world and there has been much positive exposure for Scotland to counterbalance any negative impressions."
Ros Sutherland, senior lecturer in hospitality, tourism and leisure at Napier University, believes Scottish hotels would have preferred the G8 to have been held during an off-peak period.
And Eva McDiarmid, chief executive of the Association of Scottish Visitor Attractions, (ASVA), said: "Numbers for July were very bad, down 6.6% like-for-like in the Scottish Enterprise area compared to July 2004, with Edinburgh Castle down 12.8%. Stirling Castle, the Falkirk Wheel, Bannockburn were all seriously affected and G8 was undoubtedly the major factor. Edinburgh and the Stirling/Perthshire areas were badly affected.
"On admission prices alone, that equates to lost revenue in the high six-figures, over a million if lost secondary income such as retail and catering is included, and that takes no account of impacts on local economies outside ASVA members' attractions."
Local businesses have complained about lost revenue. The recently opened Tullibardine 1488 Visitor Centre, located near Gleneagles, closed its doors for the duration of the G8. And Violet Crane, of Blair Drummond Safari Park, said: "We were almost 3,000 visitors down over the two days, and 23 out of 30 coaches cancelled on the two days, so it had a major impact on our business."
The situation in Edinburgh, where the make Poverty History and anti-globalisation protests took place, appears more clear cut. Niall Stuart, a spokesman for the Federation of Small Businesses, said: "It was obvious that during the week leading up to the G8, shops, restaurants and bars were severely affected at a time when they would normally be busy. We are currently evaluating the impact in a members' survey, but initial evidence does not look good."
Scottish Retail Consortium director Fiona Moriarty said: "Edinburgh was especially affected, but so too were Stirling and Perth, due to the dual effect of lost footfall, and additional costs of increased security. It all added up to substantial losses."
The John Lewis store in Edinburgh is understood to have seen a 23% loss in turnover during the week of the summit compared to July 2004, which would suggest a citywide retail sector loss in excess of £10m.
The controversial 'ring of steel,' the five-and-a-half mile fence erected around Gleneagles Hotel, as well as an estimated three miles of metal trackway, was supplied and installed by Nottinghamshire-based Trax Portable Access, while the bulk of the £5m security contract went to London-based Group 4 Security. Scotland's leading security provider, Rock Steady, was not involved.
Scotland's burgeoning media services industry was overlooked for the G8 sponsorship and media contract, which went to London-based Lexis PR, and another contract was awarded to US-based Jack Morton International.
Angela Casey, chairman of the Scottish Public Relations Consultants Association, said: "It's a great shame that a London company was awarded the contract. The G8 should have presented a wonderful opportunity to showcase Scotland's dynamic creative sector."
A former assistant chief constable, now working as a consultant, who did not wish to be identified, said: "The true costs of the G8 will never be known, but adding direct and indirect costs to consequential business losses, it could be anything between £100 and £150m."
[http://news.scotsman.com/topics.cfm?tid=449&id=1919902005 — 11. September 2005]
---
Edinburgh council wants £3m for G8 costs
Hélène Mulholland
Wednesday July 6, 2005
Edinburgh council is claiming nearly £3m in reimbursements for hosting events surrounding this week's G8 summit.
The council is keen to avoid burdening local council tax payers with the cost – estimated at £2.8m – of providing staff and facilities for the events.
As well as contingency planning and traffic measures, the council set up a free campsite for visitors on the outskirts of the city, at a cost of £1m.
Council officers across departments such as social services and housing have been on standby since last weekend, when the huge Make Poverty History rally took place.
Staff were told to expect 100,000 people for the march, though more than twice that number turned up.
And later this week, thousands of people are expected to flock to Edinburgh for the Live 8 – The Final Push concert at Murrayfield stadium.
The event, which features James Brown, Travis, Snow Patrol, George Clooney, Bono and The Proclaimers, is the culmination of Bob Geldof's Long Walk to Justice campaign.
Events in Edinburgh have not all been peaceful, however.
Violence erupted earlier this week following an unscheduled march by a group of around 500 anarchist protesters which led to serious clashes with police and resulted in 100 arrests.
A council spokeswoman said the local authority expected most of its related costs for the week's events to be refunded by the Scottish executive.
Councils often pay a share of the bill for national and international events that draw people to their area, though there is no fixed formula, much to the irritation of local tax payers.
"At the moment we are looking at a figure of £2.8m," said the council's spokeswoman. "We will be writing to the Scottish executive and we hope they will realise our costs".
The Scottish executive said it would consider "sympathetically" requests from public bodies for reimbursement over eligible costs incurred directly as a result of the summit.
An executive spokeswoman said: "Officials are already in discussion with a wide range of bodies. However, it is essential that all such claims for financial assistance are scrutinised very carefully."
http://www.guardian.co.uk/g8/story/0,13365,1522431,00.html — 6. Juli 2005]
---
Swinney makes G8 cost comparison
John Swinney said the G8 money could eradicate Aids in Malawi
Former Scottish National Party leader John Swinney has said the cost of hosting the G8 summit should have been used to eradicate Aids in Malawi.
Speaking in an amendment to a motion by Tom McCabe which welcomed Scotland hosting the summit, he said the money could be used for a better cause.
Mr Swinney also said policing costs could reach £100m and he wanted to know where the money was coming from.
The G8 summit at Gleneagles will be held from 6 to 8 July.
Mr McCabe's motion at Holyrood welcomed the opportunities of hosting the summit and predicted the Scottish public would be engaged on the theme of Africa and climate change.
The whole G8 summit will cost hundreds of millions of pounds just to put eight world leaders up in a prestigious Scottish hotel
The finance minister's motion also said the summit would develop Scotland's international role and showcase it to an international audience.
However, Mr Swinney said the cost of hosting the event should not be forgotten.
"The whole G8 summit will cost hundreds of millions of pounds just to put eight world leaders up in a prestigious Scottish hotel," the MSP for North Tayside said.
'Safe summit'
"If the summit hadn't taken place, those hundreds of millions could have paid for the entire effort required to eradicate HIV/Aids in Malawi.
"Equally it could have transformed the life chances of children in schools and hospitals that had such an effect on the first minister during his trip to Malawi."
Mr Swinney said it was not a question of whether the G8 summit was value for money for the people of Scotland, but if it benefited the poverty-stricken in Africa.
Malawi has problems with Aids and poverty
The finance minister said the G8 summit will not feature water cannon, rubber bullets or stun guns.
Mr McCabe said the summit was a tremendous opportunity for Scotland but added that the "fog of myth and rumour" could easily descend on it.
"First and foremost we must ensure a safe and secure summit which encourages democratic participation without unacceptable behaviour," he added.
"Our country won't become an armed camp at the beginning of July.
"Here in Scotland we celebrate our democracy, our rights and our freedoms. We want to temper enthusiasm with common sense."
Anti-poverty protest
The executive motion was passed by 109 votes to three, with eight abstentions, while the SNP amendment was defeated by 69 votes to 35, with 15 abstentions.
Amendments from the Greens and the Socialists were also defeated.
Before the debate, about 35 anti-poverty protesters gathered outside Holyrood and said the streets of Perthshire belonged to the people.
Raphie De Santos, of campaign group G8 Alternatives, said it expected 100,000 people to gather at Gleneagles during the summit.
Democratic right
"We're going to have our historic right as workers, to march democratically, to state our point of view," he added.
Scottish Socialist leader Colin Fox said it was people's democratic right to protest and he believed most people in Scotland supported the Make Poverty History campaign.
Green MSP Mark Ballard said he was looking forward to demonstrations across the country to mark the G8 summit.
He added: "Protest works, it's a democratic right. Let's have a really great day, a great week in Scotland."
[http://news.bbc.co.uk/1/hi/scotland/4073490.stm — 8. Juni 2005]
Images: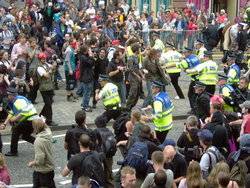 /