2012-07-05
Italian court upholds convictions for Genoa G8 violence
Italy's highest court on Thursday upheld guilty verdicts against senior officers convicted after police beat protesters at the 2001 G8 summit in Genoa and over a subsequent cover-up.
Twenty-five policemen were convicted and sentenced in 2010 but appealed against the verdict, which centred on a late-night attack on anti-globalisation protesters at a high school that left 63 people in need of hospital treatment.
Italy's statute of limitations, however, means that none will spend time in prison because too much time has passed since the offences were committed.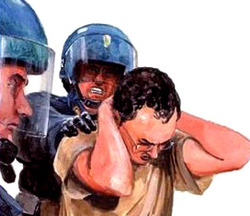 One protester was killed during the 2001 summit in clashes that were among the most violent at any of the Group of Eight's annual meetings, which routinely see demonstrations.
But the police raid of the school – in which 82 people were hurt, among them Italian, British, Polish and Irish – remains a symbol among activists of over-reaction by the authorities.
Police initially said protesters had attacked security forces shortly before the raid and that weapons were found at the Armando Diaz high school, which activists had turned into the headquarters of an alternative "summit".
But the investigation showed demonstrators, many of whom were sleeping when the raid began, had not reacted violently and that police had tried to incriminate them by planting firebombs and staging a knife attack.
The convictions have not ended the careers of officers involved in the attacks.
Franceso Gratteri, sentenced to four years for faking evidence in 2010, became head of police criminal investigation, while Giovanni Luperi, given four years for the same offence, now holds a senior job in Italian intelligence.
Source: http://www.euronews.com/newswires/1577316-italian-court-upholds-convictions-for-genoa-g8-violence/