2012-06-09
Call to an international mobilization in solidarity with the condemned for the riots (clashes?) of Genova 2001
The 13th of July there will be held the last grade of judgment against 10 comrades, condemned for having participated in the clashes occurred in Genova, in 2001, in occasion of the G8 summit.
The comrades have been sentenced from 10 to 15 years from the Court of Genova and now the detention may become executive.
Ten persons as sacrificial victims: through them, the State wants to attack the hundreds of thousands of persons who filled the streets those days, and particularly those who contributed to unleash the revolt against the arrogance of the Powerful. We won't accept the reprisal of the State; condemning these comrades means attacking the whole movement.
In the meantime the responsibles of indiscriminated massacres, of the incursion in the Diaz school, of the tortures of Bolzaneto and of the assassination of Carlo Giuliani sleep peacefully and are prized for their "low" butchery actions.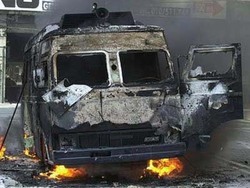 We think it is our precise responsibility to give solidarity to the condemned comrades, to denounce and fight against this act of repression, to vindicate the importance of the days of Genova.
We also think that in this period of violent attacks from the capitalist system against the exploited, it is important interpose ourselves to the criminalization of all those fights that overflow the tight space of the consented… Criminalization that passes as well from the heavy sentences given thanks to the accusation of "Looting and Devastation".
For these reasons it is important to give life to a mobilization in support of the condemned. This is our call for international solidarity for actions and appointments in the week before the judgment.
Furthermore, we invite everyone to the demonstration of solidarity that will be held the day of the audience in front of the Court of Cassazione in Rome, to make the inquisitors directly hear our voice.
06-12 July- days of action
13th of July- sit-in next to the Court of Cassazione in Rome
Anarchists
Source: http://de.indymedia.org/2012/06/331054.shtml