2010-02-20
Toronto's G20: The summit of all fears
If history is any guide, city councillor Adam Vaughan might have a point: June's meeting gives Toronto a platform to strut its stuff, but it also might bring the city to its knees
Siri Agrell and Anna Mehler Paperny
Concentric circles of security surrounding Front Street, ringed with barbed-wire fences three metres high. Bay Street, University Avenue and Yonge Street closed off to pedestrians, above and below ground. Designated protest zones and inaccessible subway stops. Condo residents flashing ID while their vehicles are searched by sniffer dogs. Business closings. A barricaded Gardiner Expressway. Peter Mansbridge getting the pat-down on his way to work at the CBC.
Those are just some scenarios for this June, when Toronto's Metro Convention Centre plays host to the G20, an international summit that will flood the downtown core with foreign leaders, their handlers, security details – and the throngs of media and protesters who follow them.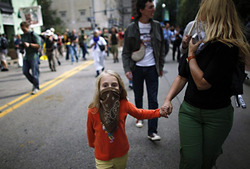 The two-day meeting on June 26 and 27 is a chance for Toronto to join the ranks of London and Washington as an epicentre for international policy debate, and to reap the attention, respect and tourist dollars that flow from such high-profile extravaganzas. It's also an opportunity to be a player on the international scene, to feed Jamie Kennedy's poutine to Barack Obama, get Silvio Berlusconi tipsy on Niagara region ice wine and see if Nicolas Sarkozy will be distracted by our young female delegates.
But the G20 also has a legacy of violent protests and multimillion-dollar cost overruns, bestowing little benefit other than bragging rights. It will transform the Convention Centre into the biggest security fortress the city has ever seen, forcing the city to figure out whether it can welcome the world while still functioning as a home.
"Business in the city of Toronto has to go on, and we're going to do everything we can to facilitate that," said Police Chief Bill Blair in a meeting with The Globe and Mail's editorial board this week. "There's a great deal of work that's already been going on with the security services in order to make sure these things happen."
Ottawa, which is paying for the security measures, made the G20 venue official Friday, and in the meantime, Toronto Police have been developing a plan with the RCMP and OPP to achieve their delicate mission: protecting delegates without stymieing protests, enforcing security protocols without shutting down the city's infrastructure and its business core.
Louise Comfort, a professor of emergency management at the University of Pittsburgh, has studied the handling of G20 summits and says these events are a blessing – and a potential curse.
"It's a big opportunity for international visibility, and Toronto needs to show that it's a grown-up international city and it can handle this," she said. "Pittsburgh was all excited about having leaders come in, but the police presence was too constraining and harsh. They essentially lost the respect and support of the community."
Last month, a delegation from Toronto Police visited Pittsburgh, the troubled site of last September's G20 summit, to find out why they used force against protesters. Chief Blair spoke to the head of their police force to glean other lessons learned. The revitalized Rust Belt city brought in 6,000 additional police and national guardsmen for the event, but still found it difficult to balance the demands of international VIPs while keeping residents happy. The area surrounding the summit site was inaccessible to locals, and most were forced to avoid downtown all together. The summit was intended to show off Pittsburgh's rehabilitation, but at one event, hundreds of students were doused with tear gas and blasted with a sound cannon. The city has since faced multiple law suits, and police are still referring all questions about the event to their legal department.
The TPS also has looked into London's G20 summit. Security for the April confab boasted a price tag of almost $12-million, the highest security expenditure in British history. Six police forces were used during the operation, three light-rail stations were closed, along with the roads nearest the 100-acre ExCeL centre venue. Although protests were smaller than expected, police still clashed with violent elements, and a 47-year-old bystander named Ian Tomlinson died of a heart attack after being shoved by police at a protest. A report by Scotland Yard into police handling of the summit concluded that it was "even by international standards … a very demanding day."
Authorities failed to properly manage protests, the report concluded, placing partial blame on the three short months they had to plan.
It's a lack of communication between Ottawa and Torontonians that worries city councillor Adam Vaughan, who represents the ward where the summit will take place. "It's kind of disturbing that the people that are going to have to bear the brunt of this are getting silence out of Ottawa. … The city is a big ship and you can't just stop it on a dime for a couple of days and then restart it. You've got to work with the city to make it safe," he said.
Mr. Vaughan says he's received classified information about the event's implications, but little alleviates his concerns over planning or explains who will clean the place up when world leaders move on.
He is expecting multiple rings of high-security zones, extending south from Queen Street, possibly as far as the Gardiner Expressway. He predicts an absolute "no-go" area in and around world leaders and a second circle to keep protesters at a distance. But it's not clear how big each circle will be, who will be allowed in and out, and what provisions will be made for the thousands of people who live and work in the area.
The Greater Toronto Hotel Association says the event will result in 50,000 room bookings, but Mr. Vaughan doubts the summit will bring many tourist dollars to Toronto. Dignitaries and their entourages and press corps will be sequestered throughout the meetings, and so hotels will likely be the only likely beneficiary. And there has already been some impact. The city's annual gay pride parade has been delayed by a week to accommodate the summit, and a planned Twilight convention has been moved to Ottawa.
Chief Blair said they have learned from the experiences of Quebec City, Seattle, Pittsburgh, London and Copenhagen, and will be bringing in supplementary forces from across Canada. They are working with their provincial and federal counterpoints to put a communications infrastructure in place to allow easy communication with the OPP and RCMP and are planning a centralized command centre.
Crowd-control issues, which could include public speech areas, may require local workers and residents to show ID to enter the area.
And while they hope for the best, Chief Blair made it clear that the authorities are also preparing for the worst. Toronto is not immune to the kind of wild protests that have plagued previous host cities, he said. But the force has learned from last year's Tamil protests, and he said that a show of force is not always the best idea.
When thousands of Tamil protesters moved onto the Gardiner Expressway in May, 2009, operational commanders presented Chief Blair with several options to clear the roadway, all of which would have resulted in injuries.
Instead, they let the group stay where they were, and closed the road instead.
"Why didn't we go up there?" he said. "Because we're not in the business of killing people."
But Chief Blair does not want people to get the wrong idea from the peaceful resolution of that protest. If things get heated during the G20, his force does not plan to stand idly by.
"The Tamils conducted their protests and stayed within certain boundaries, which was no damage, nobody hurt," he said.
"If protesters want to come to Toronto and do that, I'll facilitate that. If they want to cross that line, and start breaking windows and damaging property and putting people at risk, then there will be a different response from the police."
Lessons learned by other host cities
Recent history suggests that hosting the G20 summit will require some serious post-game damage control.
Pittsburgh: Death blamed on bad planning
When foreign dignitaries gathered there in September, 2009, local police were prepared, but too willing to take a hard line, according to Louise Comfort, a professor of disaster management.
One dinner for dignitaries was hosted on the University of Pittsburgh campus, where Prof. Comfort works. Another university, Carnegie Mellon, is located next door and classes were in session at both schools during the event. A large group of students gathered for a glimpse of President Barack Obama, crowding into a space between police barricades and a large ravine. When the police asked the group to back up, the constrictions of the campus left them no where to go, and things soon got ugly.
"Instead of moving the line up a little bit so the students could actually see, they started throwing tear gas at the crowd, which was immediately perceived as excessive and inappropriate," said Ms. Comfort.
The aggressive response angered the initially peaceful crowd. Violence ensued, nearby streets vandalized. A text message sent to students by the University of Pittsburgh read: "Conditions may be deteriorating in Oakland. Students are advised to remain near their residences."
London: Aggressive police angered crowd
Earlier that year, security for the April G20 summit was dubbed Operation Glencoe and boasted a price tag of nearly $12-million, the highest security expenditure in British history. Six police forces were used during the operation, three light rail stations were closed and residents were required to carry two forms of identification. The security operation began with a preemptive search operation of the site. A fence three metres high and a fifty metres-long wall was constructed along the Thames to protect dignitaries entering the building, which was protected by three layers of defensive barriers. There were several protest marches, all of which were smaller than expected, but several violent elements made protests unwieldy, and a 47-year-old died after being shoved by police. Anger over police handling of the event forced Scotland Yard to investigate the event, and they concluded that their planning was insufficient.
Ms. Comfort believes that protesters and passersby must not be kept too far away from the summit site, and should be made to feel like a part of the event.
"I think it's important for the police to understand that you've got to create a spectacle," said Ms. Comfort. "You don't want an us versus them mentality where ordinary people are so incensed they start throwing rocks at police."
Source: http://www.theglobeandmail.com/news/national/toronto/torontos-g20-the-summit-of-all-fears/article1474992/