2014-02-03
Toronto G20 'Black Bloc' vandal gets 7 months in jail
An American who admitted to smashing store windows and throwing a stone at a police car during Toronto's G20 riots was sentenced Monday to seven months in jail.
Richard Dean Morano, 23, of Lackawaxen, Penn. admitted to being part of the "black bloc," a group who violently disrupted peaceful demonstrations while disguised in black clothing and masks, according to an agreed statement of facts.
He was also ordered to pay $3,500 in restitution and is banned from Toronto for two years.
On June 26, 2010, the "black bloc" group swarmed a police cruiser driven by Staff Sgt. Graham Queen, one of the police cars later set on fire.
The officer was trapped in the car while the windows were smashed and he was struck in the back of the head "causing an injury not requiring further medical treatment."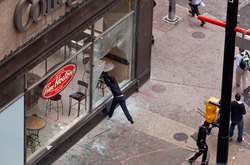 Morano threw a rock at the cruiser that cracked the windshield as he went by. There is no evidence that he knew an officer was in the car, according to the agreed statement of facts.
As the group moved up Yonge St., Morano used a piece of lumber, a fence and chairs to vandalize and smash in the windows of stores – including American Apparel, Starbucks and a CIBC – with employees still inside.
In a letter presented to court in January, Morano apologized for his "disgraceful actions."
"Although at the time I never meant to hurt, intimidate or scare anyone at the protest, I realize now my actions did precisely that," he wrote. "My thoughtless and selfish actions created a black mark on the image of Toronto."
Source: http://metronews.ca/news/toronto/929665/g20-black-bloc-vandal-gets-7-months-in-jail/