2006-12-07
Joint final declaration of the G8 action conference "Rostock II" from 10/11 to 12/11/2006
Rostock, November 12th 2006
In June 2007 there will be a great week of action against the G8 summit in Heiligendamm. The G8 are a symbol of a socially unjust, ecologically irresponsible and militaristically imperial policy. Against this policy tens of thousands of people from the region, from all over Germany and the world will protest and present alternatives to the currently dominant globalisation.
We welcome activists from other countries and look forward to one of the largest international demonstrations in years. All wings of the anti-globalisation movement will increasingly bring their views and action plans to public debate in the coming months– in the region as well as in the countries and cities they come from.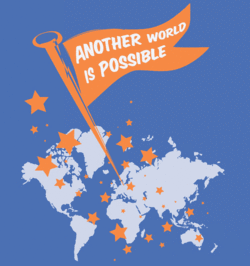 At the 2nd action conference in Rostock, more than 450 activists from the all of Europe have agreed on the road map to the week of protest against the G8 summit.
The week will start with a mass demonstration against the G8 summit on Saturday, 2nd June 2007.
On Sunday, 3rd June, the opening event, which will be organised together with our international friends, will take place.
Monday, 4th June will be a day of action for migration with the slogan "For global freedom of movement! Equal rights for everybody!" including theoretical discussions, direct action, and cultural elements.
On Tuesday, 5th June the airport Rostock-Laage will be blocked and surrounded as part of the day of action against militarism, war, torture and the global state of emergency to greet the arriving heads of the G8 states.
On Tuesday night the alternative summit, which will continue until Thursday, will commence. A number of "satellite events" will accompany the week of action, for example at the camp or during other activities.
On Wednesday, 6th June, the blockades against the summit will begin.
On Thursday, 7th June, a concert with Herbert Grönemeyer themed "Music and Messages" as well as further blockades and demonstrations will take place. Famous international speakers of the countersummit will partake in the start of the demonstrations.
Inviting the G8 summit includes inviting protest. We demand the state of Mecklenburg-Vorpommern, the district of Bad Doberan and the city of Rostock to provide the necessary infrastructure for accommodating protesters in camps and organising events.
Images: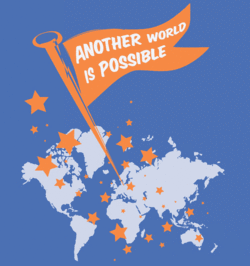 /