2008-11-19
EUROPEAN DEMOCRATIC LAWYERS: THERE IS NO JUSTICE FOR GENOA
THE VIOLENCE IN THE DIAZ SCHOOL - A SHAMEFUL SENTENCE
The court of Genoa has sentenced the 29 policemen who in the night of the 21 July of 2001, at the end of the demonstrations against the G8 in Genoa, irrupted into the Diaz School (centre of the Genoa Social Forum) and hit, hurt and finally arrested 93 sleeping demonstrators. 16 police officers have been acquitted, 13 have been condemned to punishments that go from 4 years to a minimum of a month imprisonment.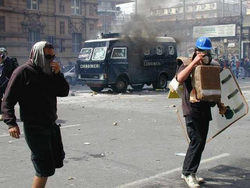 Light punishments that however will not be served. The 13 condemned are only the rank and file officers amongst the accused. For the most part they are those who obeying orders materially hit the demonstrators The 16 acquitted are the senior officers, responsible of the decision to raid the school and to frame the demonstrators who were accused at the time of detaining Molotov cocktails and resisting the police.
Once more, there has been no will to clarify the chain of responsibilities and to go back to those who took the decisions and gave the orders. Already the accusations had avoided the investigation of the Chief of the Police who could have known of the initiative that was taken in Genoa. Today all his men have been acquitted, all those who materially decided that what should be done: a slaughter of defenceless demonstrators to redeem themselves of the accusations of inertia regarding the disorder of those days. As lawyers of those demonstrators, but also as jurists and simple citizens we are embittered by the result of this trial. At a distance of more than 7 years the court has proven that it does not want to clarify the responsibilities of the forces of order in those days of violence against the demonstrators.
Whereas in another trial demonstrators have been condemned very severely (as far as 11 years of imprisonment) for acts of violence of no particular severity, many police officers have been acquitted who were accused of committing severe acts of violence in the detention centre of Bolzaneto and the Diaz school. The sentence is clearly the result of a right-wing climate currently reigning in Italy that does not only sweep away the rule of law, but truth itself. Our intention is to appeal this verdict, so that truth is known of what really happened in Genoa on those days.
EUROPEAN DEMOCRATIC LAWYERS
Genoa, 13/11/2008
Source: http://www.aeud.org/file/Diaz13.11.08EN.pdf