2010-01-31
Protesters, Police Clash Near Davos Forum
Swiss Cops Use Water Cannons in Attempts to Disperse Demonstrators
(AP) About 100 protesters demonstrated on Saturday against the annual meeting of the World Economic Forum in Davos in the Swiss Alps.
Protesters tried to bring down a fence surrounding the venue hosting the meeting and threw snowballs at riot police.
The protest, organized by anti-capitalist groups, the local Green Party and socialist movement, made its way to a hotel where some high-level guests were staying.
Police used water cannons to try and disperse the demonstrators.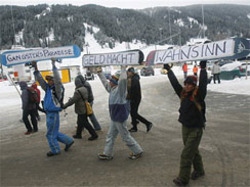 "We are convinced that the people from the WEF really can't improve the state of the world," local Green Party member Rolf Marouk said.
One demonstrator who refused to give his name carried a snowboard with "gangster's paradise" written on it. He was joined by other protesters who carried signs to display the complete phrase "gangster's paradise, money makes you crazy."
"You see much good things, what is on the media and on the inside, on the little lobbies and everywhere else," the demonstrator said. "We don't see and we don't know what happens there and little businesses, and that's really the dirty business, gangster's paradise in the house."
Top politicians and business leaders have been converging on the Alpine resort for five days of talks including boosting the recovery of the global market and tackling the thorny issue of government plans to tighten banking regulations.
On Saturday, government regulators from the United States and Europe laid out their financial reform plans before a skeptical banking industry, asking financiers for input but adamant that change was coming with or without their support.
The meeting came after days of tension over U.S. government plans for stricter controls on the financial industry to limit speculation and avoid a repeat of the 2008 meltdown that plunged the world into recession.
Bankers have protested the new proposals, saying the U.S. and other countries risk choking off a gradual economic recovery with regulation they see as heavy handed.
Source: http://www.cbsnews.com/stories/2010/01/30/world/main6158117.shtml