2002-12-13
Luca Casarini, leader of the white overalls, arrested
Copenhagen: The second informative meeting of Global Roots has finhished: 31 detainees in Copenhagen, among them, 5 representatives of the Italian disobedient movement. One of them is Luca Casarini, leader of the white overalls
Some 100-150 people have attended the second informative meeting (in Danish and German) organized by Global Roots at 8 this morning.
They give the repression info until the moment. 25 people were arrested during the night, for things such as refusing to be identified, to carry sprays or even boats of paste.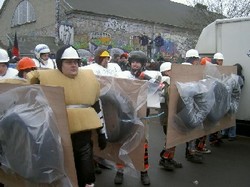 Toward 6 in this morning 5 representatives of the Italian disobedient movement have been arrested, and apparently, they will be in police dependences until Monday to be deported later on. They were arrested by the Danish police at the frontier after refusing to be identified. It has not still been organized any action in solidarity with the detainees, although Italian parliamentarian have inciated contacts with the government in support to the detainees.
Homepage: http://www.lahaine.org/
[indymedia.de, von La Haine - 13.12.2002 13:26]