20.04.2007
Convergence centre in Rostock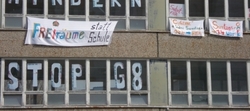 The address of the school in Rostock is Ehm-Welk-School, Knut-Rasmussen-Str. 8; Contact: convergence-center-g8-2007@mail.nadir.org. Unfortunately, there is no website.
By public transport: take trams 1, 4 or 5 to the North, Mecklenburger Allee or Rügener Str. and get out at Thomas Morus Str.. Across the street to your right, you will already see the beautiful building of our Centre with the even more beautiful banners: the mouse cutting down fences against refugees, Down with imperialism and what else you have there.
By car:
Coming from highway A19: Take exit Rostock West, then take B103 in the direction of Warnemünde, behind the cross-roads B105, proceed as described as follows.
Coming from highway A20: Take exit Rostock East, follow the B105 in the direction of Wismar to the crossroads with B103, take your left in the direction of Warnemünde. Take the next exit to your right in direction of Evershagen, enter the next street (Bertolt-Brecht-Str.) to your right and follow it, until the school shows, with the beautiful banners etc. as told!
---
Images: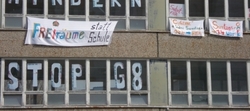 /