2010-01-27
Davos police commander found dead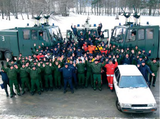 The World Economic Forum begins on Wednesday
The police commander in charge of security at the World Economic Forum in Davos has been found dead in his hotel room, local authorities have said.
Markus Reinhardt, 61, had been head of police in the Swiss canton of Graubunden since 1984.
"All indications point to a suicide," local police said in a statement.
Police captain Marcus Suter will take over the security operation in Davos, where the five-day forum starts on Wednesday.
Some 2,500 business and political leaders from around the world are expected to attend.