2008-04-12
Democracy? a mistery for the Vice president of PNL (a romanian political party)
"Hasotti about the case of the anarchists: An eventual injustice is better than tolerating a total mess
The vicepresident of PNL , Puiu Hasotti , believes that the intervention of the police on the group of anti –NATO militants from Timpuri Noi hall is oportune , stating that "An eventual injustice is better than tolerating a total mess"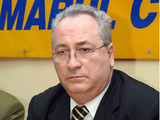 The liberal chief said in a press conference that took place on Thursday in Constanta , that the men of law interfered promptly and prevented some eventual problems that could have appeared during the Nato summit in Bucharest.
"The intervention of the police was a response to the request of the owner, who had been agressed . We have a great responsibility. And maybe, sometimes, in very special cases, it would be better to make an eventual injustice then permitting an obvious disorder " , declared Puiu Hasotti.
He also commented upon the request of PSD who wanted the secretary of state , Cristian David ,to apologise to the young people who were agressed by the forces of opression.
"In the first place, PSD should apologise for the "mineriade" which have thrown Romania 20 years behind and then to request such demands that have no connection with reality" explained the vicepresident of PNL.
Finally, he wanted to specify that the point of view reffering to the intervention on the anarchists is a personal one , and has no connection with the party itself.
Groups of masked policemen interfered on Wednesday ,at aproximately 14:00 pm at the eviction of the 46 anti-Nato militants from Timpuri Noi area , where these had rented a hall . The eviction operation has been executed by gendarmes and employees of the Rapid Intervention Police Service (SPIR) , the militants being taken to the police stations no. 10, 11, 12 and 23 in Bucharest."
source: mediafax