2008-04-05
Govt Gave Bucharest City Hall EUR3.7M For NATO Summit Prep
The budget that the Romanian Government gave Bucharest City Hall for the organization of the NATO summit, between April 2 and 4 reached some EUR3.7 million, according to Bucharest general mayor Adriean Videanu.
Programs unfolded in this period included the creation of the single traffic lane using some 22,500 large plastic buoys, 11,500 lane separators, 2,500 small buoys and 3,200 light reflecting buttons.
Markings placed on Bucharest streets were also part of the "marking program" that city authorities usually unfold.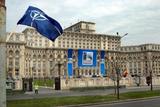 According to Videanu, the budget allocated by the Government for city hall, in the organization of this event, was RON13,900,000 (EUR3.7 million).
Videanu mentioned that the expenses will be reported next week and added that all these expenses were approved by the Organization Committee created on a Foreign Affairs Ministry level.
On the other hand, Videanu said he noticed Bucharest does not have enough traffic cops on the streets, while their presence would be absolutely necessary for the loosening of traffic and the avoidance of traffic jams.