2012-08-03
G20 lawsuit: Hamilton-area plaintiffs file $1.4 million claim against Toronto police
Seven people from the Hamilton area have filed a $1.4 million claim against the Toronto Police Services Board alleging illegal G20 arrests.
The lawsuit, according to a news release, claims that G20 protesters were illegally arrested and profiled for clothing and appearance.
Although not expressly mentioned in the claim, some of the plaintiffs believe they were profiled partly because females had "hairy legs," according to lawyer Davin Charney.
They will hold a news conference at Toronto police headquarters on Wednesday at 10 a.m.
Charney said the lawsuit was filed just prior to the two-year limitation period at the end of June and may be the last G20 legal action to be served against the TPS board.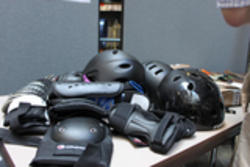 Police used discriminatory, sexist and unreasonable criteria in making the arrests, the lawsuit claims.
For instance, Charney says, protesters were profiled for wearing bandanas, goggles, wearing black clothing, backpacks and tattoos.
"These were the indicators," Charney said in an interview. "They were arresting people based on this profile."
Charney told the Starthat nowhere in the claim is there a reference to "Black Bloc," a group linked to damaged buildings and torched police cars.
Charney said his claims of profiling are substantiated in a written report by the Office of the Independent Police Review Director.
Charney said the report found that a Toronto Police constable wrote in his arrest notes that "all parties appear to be protesters; back packs; clothing & females all have hairy legs."
Quoting from the report, Charney said that the constable told the OIPRD investigators that "it was something that — one indicator that I associated with protesters down at the G20 that weekend."
The claim further alleges that the plaintiffs were falsely arrested as they walked out of Amato Pizza on Yonge St. on the Sunday of the G20. One of the plaintiffs asked the reason for the arrest and was told that police would "make one up," according to the news release.
Toronto police were seen to have seemingly allowed wanton property destruction by a small pack of black-clad vandals, while using heavy-handed tactics against many peaceful protesters in response.
Police arrested more than 1,100 people, the largest mass arrest in Canadian history. Most were never charged.
The claims in the lawsuit have not been substantiated.
The Toronto Police Services Board will be served the papers on Wednesday, Charney said.
Source: http://www.thestar.com/news/gta/article/1235060--g20-lawsuit-hamilton-area-plaintiffs-file-1-4-million-claim-against-toronto-police