2011-01-06
Tomlinson inquest to begin in March
An inquest into the death of Ian Tomlinson will start in March, nearly two years after he collapsed at the G20 protests, the City of London Corporation has said.
The 47-year-old newspaper seller died after collapsing on the pavement on the fringes of protests on April 1 2009.
Pathologist Dr Freddy Patel originally found that Mr Tomlinson died of natural causes but amateur video footage emerged showing him being pushed to the ground by a police officer.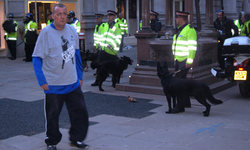 Judge Peter Thornton QC, sitting as assistant deputy coroner, will hear evidence at the International Dispute Resolution Centre in Fleet Street, London, from March 28. The jury inquest is expected to last for up to six weeks.
Pc Simon Harwood, a member of the Metropolitan Police's territorial support group who was seen pushing Mr Tomlinson, faces fast-track misconduct proceedings and could be sacked from the force.
At a hearing held at City of London Coroner's Court last month, Matthew Ryder QC, representing Mr Tomlinson's family, had argued for "as early a start as possible" to the inquest.
Mr Thornton told that hearing that the inquest would require "fairness and fearlessness". It is likely to examine the actions of police, the pathologist, the coroner and independent investigators in the aftermath of Mr Tomlinson's death.
Mr Tomlinson's family has accused the authorities of a cover-up and supported moves to bring in a senior judge to oversee the inquest.
City of London coroner Paul Matthews asked that a senior judicial figure take over the case because of its potentially wide-ranging implications.
Mr Thornton is an expert on public order law who has overseen several high-profile trials and was appointed assistant deputy coroner for the case last November.
Source: http://www.google.com/hostednews/ukpress/article/ALeqM5i8L7dEJbJbkvAK_JEkGn96ikVQKQ?docId=B8046221294329298A00